Biography
1923
Born Trowbridge, Wiltshire.Pictured here with his sister Rosemary (left) who also went on be a painter and sister Cecilia (centre) who became a ballet dancer and worked with Hilde Holger and Lindsay Kemp.
From humble beginnings in a cottage with no gas or electricity, from the age of 16, Keen was sketching and painting detailed studies of birds he observed in the fields and woods. He shone academically, winning first a scholarship to grammar school and then to Oxford and was thinking of studying to become a vet. This was thwarted by the onset of war.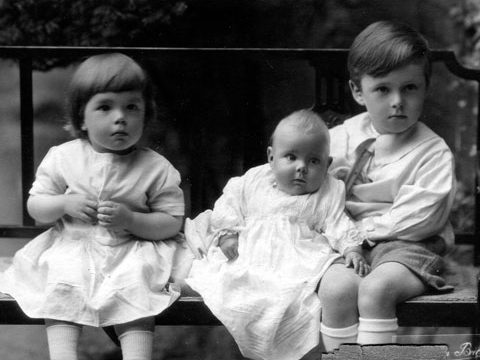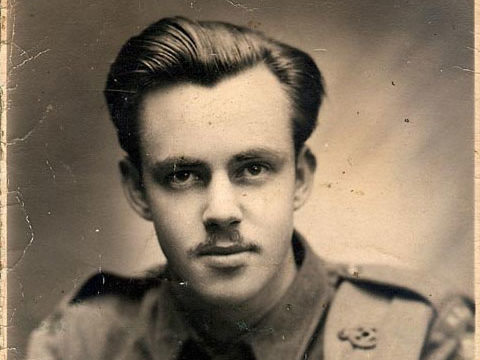 1942
Drafted into the army's Intelligence Corps where he worked on new engineering developments. He narrowly missed the D-Day landings, where many of his friends and colleagues were killed; this proved a seminal moment in his life and work.
His spare time was spent sketching, going to the cinema and exhibitions. He kept scrapbooks of the art which inspired him, including Surrealist and Dadaist works, Picasso, Dubuffet and the English Neo Romantic artists. He also read voraciously, both the classics and moderns.
1947
Demobbed from the army, Keen started (but never finished) a Commercial Art course at Chelsea. This was followed by a prolific phase of painting and drawing where he experimented with ideas and developed his own unique style.
Early 1950s
Keen moved to Brighton. Here he met his muse, art student Jacqueline Foulds, in a 'beatnik' coffee bar called the Black Cat Café.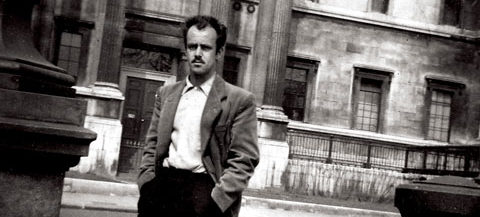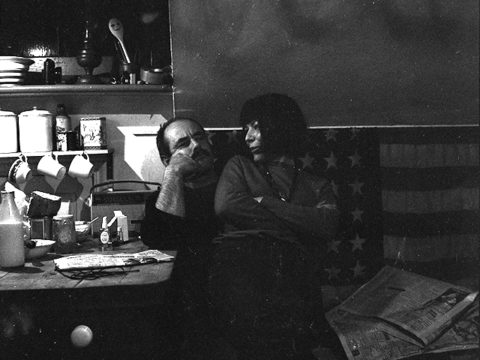 1956
Jeff and Jackie married and moved into a tiny attic apartment in a slum area of Brighton. Jackie suggested that Brighton Art College needed a Film Club, so Keen established the Film Society there and programmed an exciting selection of 'art house' classics. It was at this point too that he started collecting toys, pulp fiction magazines and American comic books.
1959
Keen produced Wail, his first 8 mm film.
1960s
More short films followed in swift succession, including The Autumn Feast in 1961 – a collaboration with New York Beat poet Piero Heliczer who starred in Andy Warhol's 'Couch'.
In 1962, he met Tony Wigens of Cine Camera magazine, who had some of his work blown-up to 16mm and distributed on the amateur film circuit and shown in the foyer of the National Film Theatre.
It was here that the influential critic Ray Durgnat first saw Keen's films and wrote about them in 'Films and Filming'.
Keen was a prolific artist and produced many smaller scale paintings and drawings, as well as larger works, assemblages, prints, books, poems and collages.
An important contributor to Britain's 1960s countercultural scene, he maintained important international links through mail art with self published books and prints. Keen was actively involved in the Fluxus movement and Anti Nuclear protests at this time. He staged numerous expanded cinema and experimental sound and poetry performances, most famously at the legendary Better Books on Charing Cross Road, London. He was also co-founder of the London Filmmakers' Co-op. He worked closely with Bob Cobbing, Annea Lockwood and Jeff Nuttall amongst others.
1965
Their only child Stella was born. From an early age, Stella starred in and worked as 2nd camera person on many of her father's films.
1970s
In 1970, The National Film Theatre held the First International Underground Film Festival, where Jeff showed his Rayday Film as part of an Expanded Cinema show. This took its name from the magazine, Amazing Rayday, that Jeff had published in Brighton since 1962 and sold in the UK and USA. Revealing his enduring love of comics, it included graphics, poems and artwork with written contributions from William Burroughs. He also presented Expanded Cinema events at art venues that combined multiple projections, poetry, experimental sound and live action with graffiti style drawings on the wall. During the 1970s his films were shown to both national and international acclaim.
1980
Jeff and Jackie separated. Consequently there was a great change in Keen's work from this period. The carefree playful mood of Family Star films like White Dust and Mad Love was replaced by a darker, more introspective approach. The lone figure of the artist/hero emerged.
1982 into the 1990s
Keen featured in a group exhibition at the Serpentine Gallery and performed at San Francisco Art Institute. The Channel 4 documentary Jeff Keen Films was broadcast in 1983. Working with editor Damian Toal, he began experimentation with video and computer technology. Characters from his work, such as Dr Gaz – his original 'mad scientist' alter ego – metamorphosed into a more Homeric figure. Larger than life anti-heroes including Blatzom (a play on the word 'Blitz'), Omozap (a play on the word 'homosapien') and The Plasticator (a Terminator-style 'Art Assassin') became part of Keen's ever-evolving cast of characters. Keen also worked on graffiti-style paintings which were designed to be transitory and disposable. Large-scale paintings were created on cardboard and paper that disintegrated over time. In 1998, Keen gave lectures and showed his films at Tate Britain.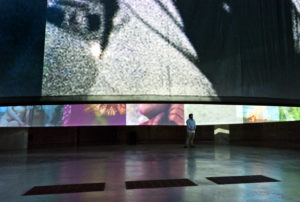 2000 onwards
In 2005 Keen was diagnosed with prostate cancer. Later on, he received an additional diagnosis of Parkinson's disease. In 2009 there was a major week-long retrospective of Keen's film work at the British Film Institute, Southbank, London to coincide with the launch of the British Film Institute's DVD box set GAZWRX: The Films of Jeff Keen. In 2011 he had his first solo exhibition of paintings at Galerie Du Centre, Paris and featured in Art Elysées Art Fair. In Jan 2012 there were solo exhibitions at Elizabeth Dee Gallery and 1602 Broadway in New York. In June he was part of a 1960s Pop Art group exhibition at Galerie Du Centre in Paris.
21 June 2012
Keen passed away at Royal Sussex County Hospital in Brighton.
That same year there was the Shoot The Wrx retrospective exhibition at Brighton and Hove Museum and also the GazApocalypse 360 degree film installation and commemorative performance at Tate Modern Tanks.